No matter where you live, we have the outerwear for you. Whether you're experiencing the North American summer or the Australian winter we have items to help keep you cool or warm.
Our Bolero and Shrugs, made of lace and beads, are perfect for those warm summer nights when etiquette dictates that you wear something over your shoulders for a party under the stars.
Or if you prefer silk and lace to grace your skin, try one of our Silk Shawls. Rectangle or Triangle they both have soft velvet borders and a hand-knotted trim.
And for those nights when it will take something a little more substantial than lace to chase the chills away, try our Velvet Capelet. The warmth of a full length cape but a fraction of the size to keep your arms free while you dance with your beau.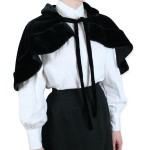 Our long capes will keep you warm during the crisp fall and winter nights. Snuggle up to our Contessa Hooded Capes with a soft faux fur trim.
Or slip into our 100% wool Veronique Cape with a silky satin lining.