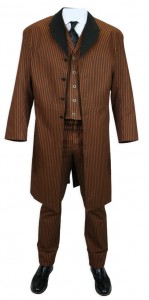 Yet another Emporium Exclusive.  You will not find this at any other store.
The Chadwick Frock, 3/4 length with smart stripes and stylish contrasting lapels. The plain blacks and grays will pale in comparison to your superlative striped style.
You'll definitely feel upbeat with the tan and dark navy stripes on this ¾ length coat that falls to the knees. Stash small belongings in the single interior breast pocket or two hidden tail pockets. A contrast notched lapel and fabric-covered buttons make this 19th century-inspired jacket pop.
In Stock Now.