Gentleman's Portrait Gallery
Looking for some inspiration for your Victorian costume? Look no further!
Step into our Victorian gentleman's portrait gallery to get costuming hints and sartorial cues from the gentlemen themselves. Our fashion timeline highlights certain details specific to each decade, however you will see that the basics of men's fashion remained remarkably stable. A gentleman would often choose a style that suited him and stay with it for many years, thus you will see frock coats as well as tail coats and town coats (sack coats) throughout the period.
When considering your own outfit, remember that there are a variety of styles which are all authentic, and you should feel free to take a measure of poetic license in combining historic authenticity with clothing that suits your own personal preferences. We hope you enjoy the gallery tour, and feel free to send us your comments or questions.
Click here to bookmark this page.
---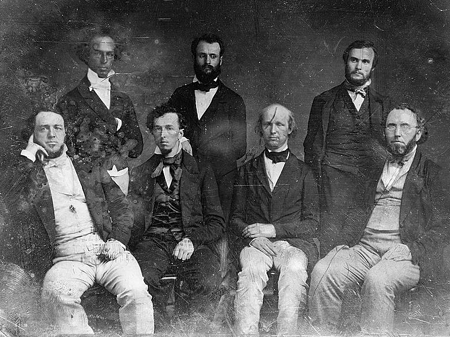 Gentlemen Friends
This photo of well dressed Victorian Gentlemen is likely from the late 1840's or early 1850's. These men are wearing a wide variety of fashionable waistcoat (vest) styles from the relatively plain, tightly tailored vest of the gentleman in the back right to the fancy, low cut brocade vest on the gentleman seated at the front left. The gentleman standing in the back left shows a fine tailcoat with the fabric of his vest visible below the front of his coat. They all display the high collars and elaborate cravats common at mid-century. Also note that many do not wear matching coats and pants and have no crease in their trousers.
---

Offices of Christian Commission
Washington, DC (1865)
This photo was taken in April, 1865 outside the offices of the Christian Commission, a relief organization founded during the Civil War to assist Union Soldiers. This photo clearly shows several disabled veterans highlighting the limitations of wartime medical care.
This photo also demonstrates a wide variety of men's civil war era clothing styles and the amazing array of hats seen on every city street. As you will note, all of the gentlemen wear hats and coats and most wear a vest as well. Note also the gentleman in the front left of the photograph wears his frock coat buttoned only at the top, a common style intended to better display men's fancy waistcoats.
---