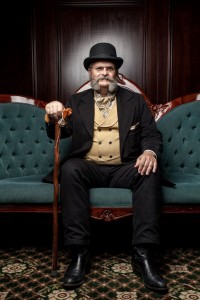 Mr. Mark Rathbun took our clothes out to compete at the Emerald Coast Beard and Mustache Alliance's 1st annual membership drive and beard competition in Pensacola, FL last month.  Outfitted in our gold paisley ascot, wheat canvas vest and black town coat, he drew effusive praise and accolades for his ensemble.
To top it off he won the Best in Show!  Mr. Rathbun says, "I know there were whiskers that matched mine, but the Gentleman's Emporium enabled me to sell the illusion of a fine dressed Victorian gent, matching my mutton chops and handlebar mustache. The focus need was toward the face and that flash of gold pulled in the focus right where it was needed. As always the Emporium delivered, quality and good service."
Congratulations, Mr. Rathbun.  Thank you for sharing your story and we are excited to be part of your winning outfit.
If you have pictures and a story to share, please tell us about it.