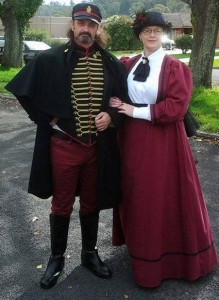 Huzzah! To Amethyst Rose, from the Land Down Under, for winning Best Dressed Couple at The Kingdom of Ironfest last month. She said "Thank you GE, wanted to share this photo with you of my gorgeous outfit that helped us win…" (Lithgow, New South Wales, Australia)
And what a gorgeous outfit it is. From our Ladies Emporium line, Amethyst Rose is decked out in our Burgundy Edwardian Suit, Classic Gibson Girl Blouse, Narrow Black Velvet Belt, Black Lace Jabot, and Black & Burgundy Riding Hat.
Thank you for sharing and Congratulations on your win!
For more information and photos be sure to check out Ironfest online.
Share your story!
If you have a photo or story you would like to share with us for our blog, please contact us!