Congratulations to our winner, Dave Carrier, shown here greeting visitors to the Isham-Terry House in Hartford, CT. Dressed in our Twin City Vest in Red, Mr.Carrier portrays Mr. Franklin Pettibone, a merchant tailor and good neighbor to the Isham sisters.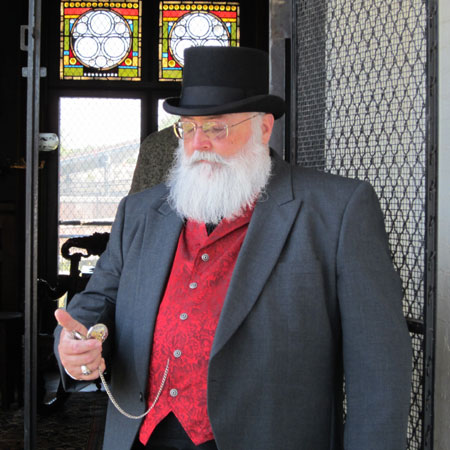 The Isham-Terry House was built in 1854 as an Italianate Villa. Dr. Oliver Isham purchased the house in 1896 and used it for his physician's office and lived with his sisters Julia & Charlotte.
The sisters occupied the house until the 1970's and fought to preserve the historic house when Interstate 84 was built. The sisters made few changes to the house so that it now represents life for the upper middle class in the early parts of the 20th century.
Room after room is filled with objects of historical and family significance: ornate gas-light fixtures, stained-glass windows, rare books and paintings. The sisters even kept Dr. Isham's office undisturbed so that modern visitors can see his surgical instruments and medicines.
Editor's Picks
Special thanks to everyone who sent us pictures in June. We had so many wonderful entries that it was difficult to choose our favorites, but after much debate we settled on these 6 as our editor's picks.
To see the entire Customer Photo Gallery, please click here.
We will have another drawing at the end of July, so send your photo to us and get a chance to win a $200 gift certificate. If you sent us a picture in May or June and did not win, you will be automatically entered in this month's drawing. To increase your chances of winning, please send us a new picture for July.
Hope you enjoy the gallery and we look forward to seeing all the new photos.