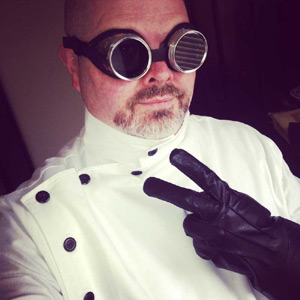 Halloween is just around the corner, as is our deadline for standard shipping to get your best costume ever.
Haven't placed your order yet? FEAR NOT!– there is still time. But just 2 days left until our standard shipping deadline – Wednesday October 21 for Halloween orders.
Not sure what to wear? Check out some of our Classic Themes for instant costume success..
Stripes and nautical themes abound!
The wind in your hair and the world at your fingertips…
Battle the Mummy … or sunburn… in these great classic looks. Pith helmets, goggles, and a stiff upper lip.
Feel the madness flowing through you! We've still got a few of our very popular mad science lab coats in stock, but they're going fast!
Party in Style in one of our classic smoking jackets!
Change your look instantly with one of our theatrical mustaches, beards, wigs or eyeglasses.
Special thanks to all of our customers who have shared the fabulous outfits above. You can check out even more ideas from our Customer Gallery. Don't forget to take pictures of yourself in your Emporium finery so you can enter your photo in our monthly drawing!
Remember, the standard deadline is Wednesday, October 21, so act now to get the best selection.
If you have any questions, please contact us and we'll be glad to help.