All our product reviews are from actual customers, just like you!
These are a few of our favorites for the month of September.
---
Having searched for quality period clothing in the UK, I came across your web site. I was taking a risk ordering without seeing I figured but the items I wanted were listed and the prices were excellent. I was however beyond pleased when the suits arrived. The quality of the cut and fabric is superb. The linings are of the highest quality and the service was beyond my expectations. I would just add for any UK buyers reading that there will be a lot of import and VAT to pay on these items, however when compared to a good suit on the High Street here, these items were still exceptional value for money. I would not hesitate to order again should the need arise.
[Paul Osborne, Gosport, United Kingdom]
---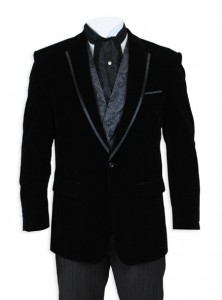 Westchester Velvet Smoking Jacket – Black: Suave and debonair
I ordered this black smoking jacket for the Halloween Dracula's Ball event this year about a month ago. This vest, I feel; will be the talk of the town. It is suave, debonair and lavish all at once. I was really impressed that the sleeves were not too long. In fact; the sleeves were the perfect length for me and the jacket itself fits like a dream. I can't wait to wear this out on Halloween for its debut and many club and concert events thereafter to come. This smoking jacket looks and feels so sexy.
[Angelo Americo, Philadelphia PA.]
---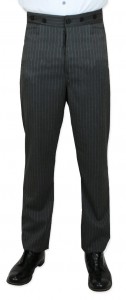 Garner Trousers – Gray Pinstripe: Always the Best
Once more Historical Emporium has hit a home run. I bought the trousers and vest, went to a wedding and it was really nice and I fit right in and no one noticed it was not a "new "suit, the tailor who alters all my purchase is always amazed at the quality of the products and when I tell her the cost she is even more impressed. She loves to work on all the stuff I bought because it is so good to work on.Thanks for everything.
[Andy, ON, Canada]
---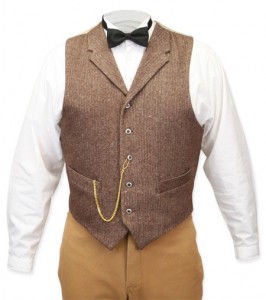 Walden Wool Tweed Vest – Brown Herringbone: Gorgeous and warm!
I wore this over a chambray blue shirt for my wedding and it made me look great! My only complaint would have to be about the weather, but when you wear a wool waistcoat on September 18, you don't expect it to be 87 degrees! 🙂 Seriously, it fit perfectly, the online sizing chart was a huge help, and the product was exactly as advertised. Would purchase again 10/10!
[Neil, Astoria, NY.]
---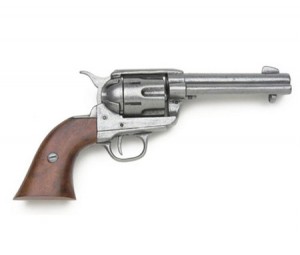 1873 Colt Peacemaker Pistol Replica – Gray: Great Gun!
This gun is so realistic! Very heavy and well made! The holster I purchased to go with it was also great! I even had someone in Ft. Worth Cowtown stop me (in between my performances) and comment about how nice it was!! I have loved everything purchased from Historical Emporium. Prices might seem high at first but the quality is so great…You will only have to purchase once (should last forever)
[Anonymous]
---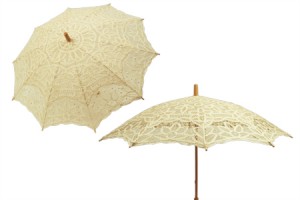 Battenberg Lace Parasol – Ivory
The color matched my wife's dress (which, I guess is important) and she loved the style. I love looking at your site and your products and extremely authentic. Your staff is very professional and great to work with. Keep up the good work.
[Top, Fenton, MO.]
---
Click here to see all of our Historical Emporium Customer Reviews!
---
Want to review a product? Be sure to watch for our email about a week after your order arrives.