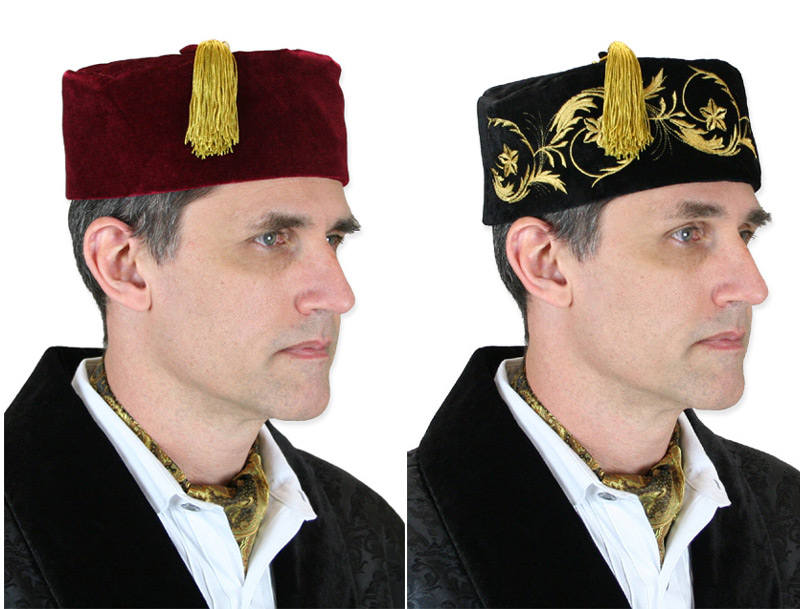 We are very (very!) excited with a new product and really wanted to share the news.
For a long while, we have been wanting authentic caps to go with our vintage smoking jackets. We couldn't find anyone making them to our satisfaction, so we developed an exclusive style and are happy to say they're finally in stock!
Warm and very (very!) comfortable soft velvet body, classic pillbox shape, and sized for a comfortable fit.
The basic style has solid velvet body and a quilted top, in five colors.
---
The deluxe style has a velvet body with intricate embroidery on the sides, and a plain unquilted top, in three colors.
---
They're not just for smokers! These hats are great for lounging, nights out, or nights in, and are sure to put you in a fez-tive mood no matter what the occasion!
This is an Emporium Exclusive, and you can't find them anywhere else. If you have been wanting an authentic, comfortable smoking cap, we really think ours is worth a look.
Our Vintage Smoking Jackets are a perfect match in velvet and color to these new Smoking Caps! Mix or Match for your next event and be sure to be the center of attention.
Want the whole smoking / lounging set? Then take a look at our Vintage Smoking Collection!