Congratulations to our winner, William Van Valkenberg, pictured here wearing the Khaki Twill Trousers and Brown Canvas Stagecoach Suspenders from the Historical Emporium.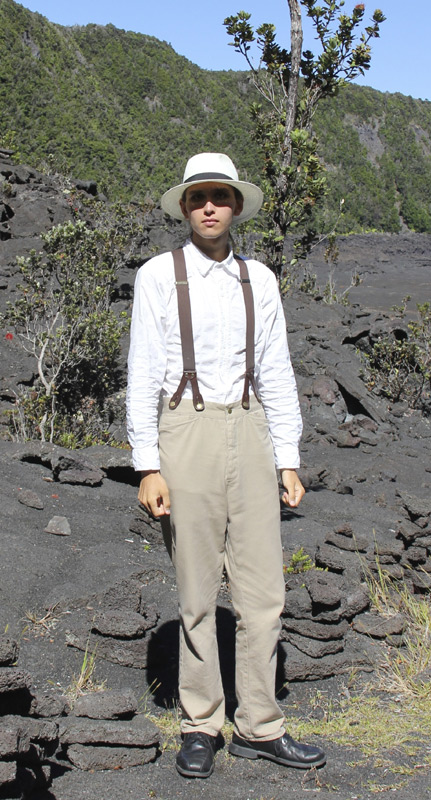 High-quality formal waistcoats and finely-felted wool hats are undoubtedly ideal for many occasions, but outdoor adventuring demands sartorial garb of a decidedly more rugged nature. While hiking across the caldera and surrounding jungle of Kilauea Volcano, your Khaki Twill Trousers and Stagecoach Suspenders more than pulled their weight. In point of fact, they held up (and continue to hold up) markedly better than the more typically employed jeans or cargo pants, showing very few signs of wear or fading despite enduring a number of adventures, excursions, and arduous construction projects since then. I might add that the pants stayed cool, breathable, and comfortable in the steamy, tropical climate.

Your store has become justifiably renowned for supplying exceptional costume apparel, but I've personally found that your articles are more than just historical costumery: they are real, practical, durable clothes, more than capable of matching or outperforming conventional attire in terms of workmanship and longevity.

-William Van Valkenberg
Editor's Picks
Special thanks to everyone who sent us pictures in November. Here are a few of our favorites:
To see the entire Customer Photo Gallery, please click here.
We will have another drawing at the end of December, so send your photo to us for a chance to win a $200 Emporium Stores gift certificate. If you sent us a picture in a previous month and did not win, you will be automatically entered in this next month's drawing. To increase your chances of winning, please send us a new picture for December.
Hope you enjoy the gallery and we look forward to seeing all the new photos.