All our product reviews are from actual customers, just like you!
These are a few of our favorites for the month of March.
---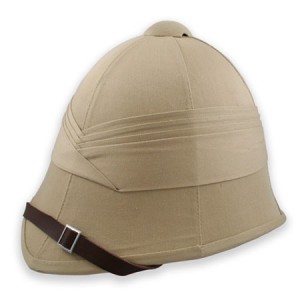 British Empire Pith Helmet – Khaki: Beauty!

Let me start off by saying, I have a big head … I discovered, that the inner hat band is merely buttoned in, and if one decided to take the few minutes to unbutton it, one would find that the helmet fits the larger heads just fine, and quite comfortably, as the lining of the helmet is rather splendid.
I will warn, for those with long hair, the the rivets will sometimes pull a bit upon removal of the helmet, but, proper fashion was never meant to be completely painless after all.
All in all, this is exactly what I need for the "Explorer's Club" at ConDorCon.
[Warflight, Spring Valley, CA]
---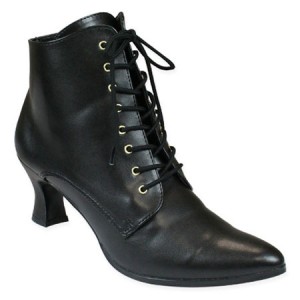 Victorian Ankle Boot – Black Faux Leather: Costume Boots for Theater

As a man wearing ladies' boots for the first time, I am both sympathetic to the demands of women's fashion (!), and very pleased by fit and relative comfort of these boots!
The sizing was perfect (men's size plus 1.5), and they are actually not difficult to walk in (for short distances). The heel has a good-sized cross-section and is quite stable. The faux leather is probably not as thick and as supportive as real leather would be, but then again the price was very reasonable and they look great!
now if I can just remember to pick up my dress so I don't step on it…
[Dave, Montrose, CO]
---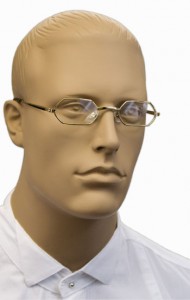 Victorian Spectacles: Glasses that help

I bought the glasses at first because they looked good, then I found another and more important reason.
My 5 year old grand son got glasses not to long ago. He hated wearing them because he thought it made him look funny. After I brought the specs and started wearing them, my grandson started wearing his because grampa was wearing his glasses…
The glasses are great and I enjoy them a lot…
[Cull, Colorado Springs, CO]
---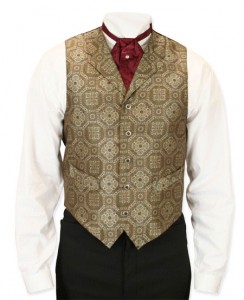 Knightsbridge Vest – Brown and Blue: New addition

This is a GREAT vest and fits perfectly. Always get a complement and or the envy stare.
Looking for more styles like this in my size…. waiting to order.
[Tango, Tampa, FL]
---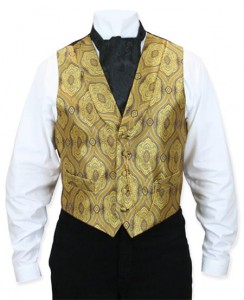 Kingsley Vest – Gold

11th Vest I've Purchased! Once again Spot On! I wear Emporium Shirts And Vests on a Daily Basis for Work.
Quality and Cut are Perfect! Puff Ties are added for Church and Restaurants! I ordered this vest to go with a Green Herringbone Waistcoat I bought.
Many Complements on Sunday!
[Erv Spevacek, Victoria, MN]
---
Click here to see all of our Historical Emporium Customer Reviews!
---
Want to review a product? Be sure to watch for our email about a week after your order arrives.