Product Inquiry Form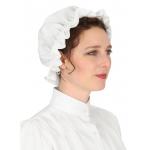 Ladies Mob Hat
Item: 001840
Customer Reviews of our Store
The call me 'Razor W
MO, United States
2019-12-13
Read my actual product review.
Prior to ordering on-line, I called to confirm if I ordered a separate holster for a longer barrel (6-8") revolver, would I be able to swap it onto the belt portion of a similar-but-shorter (4-6") Gun Belt & Holster combination I also intended to order. I was glad that I called, learning certain models are not built to allow this. Fortunately the models I chose do. The pleasant and helpful reception to my call made me confident I was dealing with a company who cared for its customers. I placed my order, which arrived well within the estimated delivery dates. I'm very pleased with the quality and appearance of both
holsters
and gun-belt, excellent matches to on-line photos, being .44/.45 cal RH Draw Black Tooled Leather.
There was an unfortunate misunderstanding regarding an item sent in my last order. The wrong item in the right box from a third party supplier. Historical Emporium tried to correct the matter but the item I ordered was then out of production. I was refunded a significant portion of the outlay and shipping (shipping to Australia is unfortunately expensive) and I must complement Historical Emporium for their efforts to be equitable in such a complex and frustrating situation. Mistakes will happen but Historical Emporium makes a real effort to support their customers and I consider the outcome we reached to be more than equatable. I would still recommend Historical Emporium for your costuming needs. The other items I ordered were, as always, as described and delivered well-packed and very promptly.
A mother's pick
MD, United States
2018-12-15
I really can't answer about the quality since it is for my son and he hasn't gotten them yet to see how well they hold up.
Found this website on a whim looking for historical clothing for a future trip to Virginia City. I ordered the wrong size and even though we are still in covid-19, staff called me the next business day and was super professional. They helped me figure out the correct size I needed over the phone. I am very pleased with the
shirt
I purchased and as soon as I lose some weight, I plan to buy more clothing from here. I want to thank you guys for super fast shipping (shipped within 24 hours of purchase) and know you found a happy buyer who plans to buy again in the future. Stay safe.
I had to have the
shirt
top button loop modified. The button (a cloth knot) would not fit into the loop