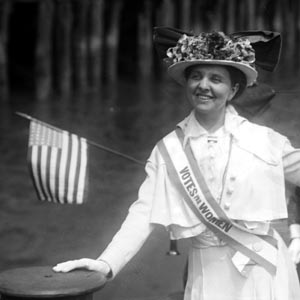 Suffragist / Suffragette Outfits
Though the movement for women's suffrage in the US began in 1848 in Seneca Falls, NY, the emblematic wearing of white did not become common until 1908.
In the US, suffragists chose the colors of white, purple and yellow/gold to represent purity, loyalty and light. While in the UK, suffragettes wore white, purple and green, representing purity, loyalty and hope.
Once large demonstrations began in 1913 the white dresses with Votes for Women sashes made a distinct statement about the movement and the women supporting it. In black and white photos from the era, the orderly parade of ladies in white dresses contrast sharply with the sea of black coats worn by the male spectators.
Though it took over 70 years, the 19th amendment granting women's suffrage was ratified in August 1920.
Our period ladies' clothing is perfect for a spot-on suffragist impression, suitable for movie and TV production, theatrical, and living history needs. We hope you find what you are looking for, and please contact us if you have any questions!
---