Product Inquiry Form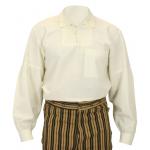 Laborers Shirt
Item: 002075
Customer Reviews of our Store
William "Buzzman" Mitchell
CA, United States
2022-06-02
The Historical Emporium people are absolutely among the most helpful, friendliest, professional and polite people I have ever done business with. I had made the mistake of over-sizing my hip size. I tend to fluctuate my weight, being a terminal cancer patient, my weight fluctuates up and down. Mostly down. I contacted customer service who quickly rectified the issue and without so much as a hiccup the problem was fixed. Great job!! Thank you!!
Sam J. P
CO, United States
2022-05-20
I was so happy to receive my new
coat
and vest for Historical Emporium! I have been disappointed in the past with clothing bought online from other merchants, but the SABLE BRUSHED COTTON SACK
coat
and the matching SABLE BRUSHED COTTON VEST fit as if they were hand made for me. They are perfect for an Old West interpretation and look as great out on the prairies as they would on the boardwalks of any town.
All the items I've ordered have been excellent and customer service exceptional
Great quality merchandise. This is not
costume
(cheaply made) apparel. This is exactly the quality that your great-grandparents would expect.
This was a short notice order from Michigan. They took my order on Monday and got it in the mail Monday evening. I got it on Thursday and was able to have the tailor shorten the pants by Saturday. All in time for the party on Sunday. I won first prize for my
western
outfit. Thanks a million for the quick turn-around on my order. Dave MacDonald
After paying extra money for a rapid delivery I was informed on the day I was expecting this item t
hat
it was running late and the possibility occurred t
hat
I would receive this item only AFTER I needed it. I then called AMAZON and they immediately got in touch with the Historical Emporium (this was all late at night). W
hat
surprised me was t
hat
Historical Emporium immediately sent an email refunding the additional delivery charge, and then assured me t
hat
my package would arrive the next day. It did. My only regret was t
hat
in my AMAZON review, I wasn't sure exactly how a particular prop worked on this item and-due to my own ignorance-claimed t
hat
an item was missing (although I pointed out t
hat
it was a minor flaw. Afterward I discovered t
hat
the 'minor flaw' was me. Thank you Historical Emporium. You came through when so many other companies don't.