Product Inquiry Form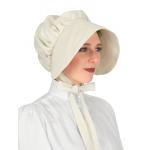 Muslin Bonnet
Item: 002348
Customer Reviews of our Store
Shawn S
TX, United States
2022-03-10
Everything was perfect. Had to return gun belt combo because I measured wrong. The exchanged went smoothly. Received the correct size and am very happy with the quality of the gun belt and
holster
. Had to get the two tone instead of the choc. But very happy with purchase over all.
I have an odd shaped body so I knew I was going to need to order a few different sizes to see w
hat
would work. Historical Emporium made the return process sound very easy online so I was not hesitant about purchasing. I received the items quickly and determined which ones would need to be returned. It was very easy to print off the return slip and repackage those items. I received a full refund for those just a couple of days later. All products thst I received were very high quality.
Loving wedding... v
CA, United States
2023-03-10
Less than a week before her wedding, my daughter informed me that the colors would be black/white and green. A day or two after that, she sent me a photo of the tie she was going to be wearing. So I'm in a bit of a panic, and I think, "Hey, I get all kinds of cool stuff at Historical Emporium. I wonder if they can get this to me on time?" So I look up the emerald green
vest
that I wanted and call in to order it, and have it shipped as fast as possible TO UTAH (since I'd be leaving my home in Eureka, CA before it was even shipped). The support person said, "No problem, we can get it there via normal two-day." I worry and ask if I need to pay for overnight. They quote me the difference, and then say, "It'll get to Utah on Thursday, no problem. Overnight will only get it there one day earlier." So I trust them, and it gets there the day before I do! (Did I mention I drove there, and it took me three days?) The
vest
and matching tie are perfect. I also got an ivory hat band for my top hat. I supplemented it with my blue striped trousers... that I originally bought from the Emporium. Fantastic. Of course, my daughter looked better, because... well, she's my daughter. Lovely wedding!
I found the web site by searching for it. Once found I seen the belt and
holster
I wanted and I placed the order. Once placed it took a few days to receive the product. All in all it was a smooth and pain free experience. I would definitely order from here again and again.