Product Inquiry Form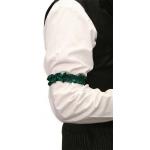 Deluxe Silk Sleeve Garters - Hunter Green (One Pair)
Item: 003019
Customer Reviews of our Store
I ordered a size too large and had to exchange the
hat
. To expedite shipping on the right size, I went ahead and reordered. The process was easy, my card credited back within hours of historical Emporium receiving return, the new shipment had already gone out and arrived earlier than expected. Nothing but a great customer experience and how we all wish everything would go in life. I'm totally happy.
Great product and great customer, thank you!!!!
Brandon B
MA, United States
2021-11-10
Historical Emporium is a company that you will be satisfied with, guaranteed. I've been buying products from them for a few months now for just normal everyday wear and they hold up extremely well. I always get compliments on the things I buy from them, and I feel great wearing them. The price is 100% worth the product and you'll really feel it when you receive your product(s). Products aside, the people that make all of this possible are amazing and I've had nothing but positive experiences with them. Whenever I have an inquiry, I just shoot them an email and they normally respond within the hour (when they are open, of course). In their responses, they're extremely clear-cut and easy to understand. They want to guarantee that you'll have a fantastic shopping experience with them. Their delivery times are phenomenal as well. They are based in California, while I live in Massachusetts. Deliveries, at least in my experience, are always EARLIER than the timeline in which they give. This is just with standard shipping as well, and I'm sure their expedited shipping option is even faster. Of course, it's no two-day/overnight shipping, but for the distance and relative size of the company compared to corporate behemoths like Amazon, it's really unmatched. Overall, I would recommend Historical Emporium and its products to anyone looking to change up their wardrobe,
dress
in a play/film, or any other reason you'd want to wear historically-accurate clothing. I will be a constantly returning shopper and hope that their overall quality sticks around.
I found the
holster
very good for my needs. Made a few changes to custom fit my pistol but anything else I saw that would custom fit exactly was much more money. The look and fit worked out well for me.
The only issue was my misunderstanding of the sizing process....
Classics white b
FL, United States
2021-10-15
Historical Emporium had a sale on white
blouses
and I wanted a new white blouse. A great selection plus speedy and safe delivery means that I received exactly what I was looking for!