Product Inquiry Form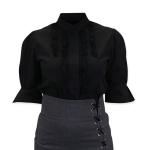 Louisa Blouse - Black
Item: 003905
Customer Reviews of our Store
I have shopped at many stores whether in person, on-line or by phone over the years and I can honestly say t
hat
my shopping experience with Historical Emporium was one of the best experiences I've had. I had initially e-mailed them to inquire about an item, I received a quick response stating t
hat
the item was in stock. I called and spoke to Meghann who was so very helpful. She answered all my questions and even checked again to confirm t
hat
the item was in stock. I placed the order on a Monday and the item was in my house on Wednesday. Great service!!! I definitely recommend Historical Emporium.
Heavy Bear S
NY, United States
2018-08-27
I have repeatedly ordered various pieces of clothing and have always been very satisfied with the service and the products. I am a "
cowboy
Action Shooter " (a shooting competition using Victorian equipment, clothes and guns ). Very frequently we have to set up and tear down the target range. It involves moving steel targets and stands. The work clothes I buy are not just for show. They take a pounding but they come back for more. The fit and cut is very work oriented. They wear WELL !
James G
CA, United States
2019-09-28
I thought I wrote about this that it was my fault because I didn't do the correct research when ordering my
shirt
. It was made of rayon and I do not wear it after I did it after the fact because I didn't know what it was. I was just happy to get a
shirt
like that that I thought wasn't made anymore. I had bypassed everything important to get that
shirt
. There is nothing wrong per-say, it's just that rayon is not a good product. (Bad consumer product). The
shirt
, I will keep it as a reminder to myself unless you want it. I hung it up in the closet and that's it! You ppl did no wrong at all! You are innocent! Your company handled things like professionals. It was my fault! Just do research on rayon. It is also used in feminine products.
Wore my spats over
boots
to Church and out to eat. Got so many compliments. They looked great.