Product Inquiry Form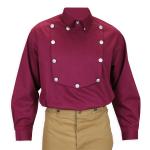 Longview Bib Shirt - Burgundy
Item: 005151
Customer Reviews of our Store
Love the styling. Love the fabric quality. Love the order process. Love t
hat
it is made in the USA!!!! Will definitely be a returning customer!!!!
I was pleasantly surprised when I received the
vest
. I wanted to find a decent red
vest
for my daughter's wedding but one that wasn't bawdy or overly RED. I found your site by checking various sites with nostalgic clothing, I decided to go that route because I wanted to wear it other than to her wedding. When I found your site I literally spent hours perusing the site and checking out pretty much everything for men. From hats to suits to even the pins. Reading reviews and seeing what people were saying about the quality, I decided on the dragon
vest
and figured for rhe price it was worth a little risk. When it arrived I knew the 'risk' was well worth it. The craftsmanship and quality of this dragon
vest
was just amazing. I'm not looking for acting or stage clothing, although this is perfect period clothing, I plan to wear this for my everyday work and for special events. There are so many other items I plan to purchase and I'm so looking forward to just going through your inventory and selecting each item. Thank you all for providing this quality period clothing for a reasonable price.
Cowboy S
FL, United States
2019-01-17
Started out looking for a nice
holster
for my six shooter, definitely got that. ended up finding a awesome store to buy nice clothes nice quality and nice leather products! Looking forward to future purchases and items that I've been looking for. I'm a Cowboy!
I've made a number of orders but only had one customer feedback/review email sent to me. Having said t
hat
the products I've received have been very good quality and I've had no major issues. A couple of years ago I received an item t
hat
had a broken piece and they replaced it without me having to ask. So far, really good customer service. They are my go to online shop for general period costuming.
The owners are really great people. I send e-mails to them and a quick response. Their products are excellent. I now have 3 of their shirts 2 pair of
pants
2 suspenders Very pleased with what I have. The shirts are from Scully. Top quality. Thank You for great service.