Product Inquiry Form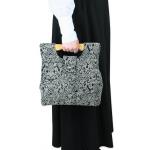 Small Carpetbag - Black Chenille
Item: 005226
Customer Reviews of our Store
Smedley
NM, United States
2019-11-01
Just my opinion. We are wise to step back into history and learn from whence we have come. The Historical Emporium provides authentic, durable and well constructed clothing. The shipping snd service are fast. If there is a sizing or fit issue...their staff is fast to correct. I am particularly fond of the
vests
. They are classy. Top notch company with top notch products!!! Jeff Swanson
For a first time buyer I am pleased with the product an shipping time for me to rec the items I purchased..
Glenda K
TN, United States
2018-08-24
This is the first order i have placed with HE. The item arrived within 3 days and is exactly what i expected. I haven't worn it yet but will at the next
cowboy
shoot next month. I will order from HE again when the need arises. Thanks, Glenda Kersten
The quick response and top service from Historical Emporium is first class. I would highly recommend this company to my friends and acquaintances.
Delivery time, shocking...fast. Item selection decent. Quality excellent. Product diversification fair. Didn't find what I was searching for, but what is available is stylish. Was looking for more work related of a "common everyday" line. More common full button plain work shirts of a "homespun concept" related to the trades v. Professional business attire/dress/fancy look. Was looking for
pants
that are closely related to periods, but lighter weight that can be worn today in hot climates when re casually shooting SASS. Was looking for products that relate to blacksmith's, farmers, mule skinners, stable hands, carpenter's, dock worker's, and the like. You have some, but the products are more closely related to other occupations. The selection is expanding, more stuff is available now than previously, so perhaps it'll continue to diversify. Prices are scary and make me look for other options. If I can find items, I will buy elsewhere, but when I can't, and you have it, I'll sometimes bite the bullet and pay your prices. What I get from you is good, and quick, but in my humble opinion, not quite worth what you charge. I can often get 3 shirts for $65, that are of same quality, and sometimes, better, I.e. Buttons that are true deer horn. Likely you won't like my review, but you insisted and persisted so, here's what you get. If you don't want it, don't ask. I'll buy again, when it's appropriate, and I'll refer people occasionally. So overall the critique is critical but favorable.
Sunshine
TX, United States
2018-11-26
I previously ordered this skirt &
blouse
in the maroon and was so pleased with the quality that I also ordered the navy set as well. It is well made and perfect for my job as volunteer docent at a historic site. The medium size skirt was great - love the second button on the waist. The
blouse
was roomy and I found a size small still fit my long arms very well. Thank you for this excellent product!