Product Inquiry Form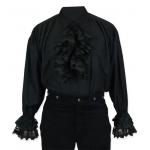 Byron Shirt - Black
Item: 005284
Customer Reviews of our Store
Lynda C
TX, United States
2019-12-30
Have tried unsuccessfully to contact Customer Service two times but due to time zone differences Ive been unsuccessful. I want to ask if the 14 inch Brass Telescope I purchased is supposed to be functional. I purchased it believing it was a functional telescope. Unable to see through the lens . A dark shadow in the telecope prevents me from being able to see through it. Also, when the telescope is fully extended the first 3 sections have movement where they join each other. The first section has more movement than the second and third section.
The customer service I received was phenomenal. I had ordered the wrong size and had to return it. I was promptly contacted when my desired size was out of stock. Customer service suggested alternatives and helped me find a suitable one in the correct size and sent it right out.
Refund for all items returned has yet to be reflected on my credit card. Partial, at present. My experience with HE has been exceptional. So, I'm confident it soon will show up.
Belt runs lot smaller in size better order 5 sizes above waist size in
pants
had to return didn't like paying to send back but overall happy with product turn around replacement was quick will order again
Dr Randal A
NV, United States
2020-07-22
I waited to do this review until after my second order. Historical Emporium's customer service is suburb. Any questions I had were answered within a day, in fact one within 5mins of my email being sent. Order fulfillment was fast and orders for me at least arrived a day or two early; even with the COVID situation. My first order was Gold Sutter Satin Puff Tie, the Gold Jacquard Premium Mens Button Spats and Sable Brushed Cotton Trousers I had order to go with an old 20's men's
vest
I steampunk'd and a Brown Gold Brocade Jacket already order. The quality of my ordered products were exceptional definitely long term wear, truly reenactment clothing, much better than the costume quality jacket I ordered where its picture didn't match what arrived, and HE's items were identical. This prompted me to get the Khaki French Satin Suspenders, which I'm equally pleased with, and I will as funds are replenished place a third order for a High Collar Excelsior Dress Shirt, the shirt I currently have well doesn't measure up for my Airship Pirate Doctor Attire I am creating. So yes On a 5 star rating I give them a 10 ;)