Product Inquiry Form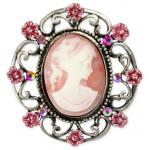 Floral Cameo Brooch - Pink
Item: 006350
Customer Reviews of our Store
Gaylord H W
TN, United States
2020-10-23
Like it, it was just w
hat
I ordered.
Victor D. H
MI, United States
2019-01-31
My Father Was Born In 1908. From Earliest Childhood I Was Brought Up With A Man's Word Having To Do With His Honor. It Really Meant Something. Giving Your Word With A Hand Shake Was The Same Thing As A Binding Contract. So When I Tell You T
hat
I'm Very Old School, You Should Get The Picture. In My Experience No Two Brands Of Clothes Fit The Same. So, I Like Going To A Store To Try Things On. For This Reason I'm Not Too Excited About Buying Clothes On The Net. But Getting The Type Of Clothes I Wanted Left Me With Little Options, Because These Type Of Clothes Aren't Generally Available Just Anywhere. Noel Worked With Me Giving Me The Confidence, & Trust To Try Ordering W
hat
I Wanted From Historical Emporium. He Also Offered To Make Things Right If Some Of The Items Didn't Fit Correctly. So When There Was A Problem With The Items Fitting Correctly, Noel Offered To Ship The Replacements First Giving Me A Chance To Compare Them To Ordinal Items. I Really Appreciated The Way I Was Treated. There Was A Level Of Honor, & Trust T
hat
You Just Don't See In People Anymore. I Have To Say I Like The Quality Of The Product, & The Service Is First Rate. So Not Only Will I Be Back, But I Will Definitely Be Recommending Your Company To People I Think Could Benefit From It. Thank You Noel, And Historical Emporium For A Painless Experience.
Bruce K
TX, United States
2019-08-22
I have bought items form you folks in the past and have always found them to be of the upmost quality
Howard C
AR, United States
2020-06-26
The product was much better than anything I have seen. Delivery time was quick and it is exactly w
hat
I ordered. Very happy with my first use of this company.
The clothing I purchase here is for work and play. They are light weight excellent quality and the ruggedness mean they will last. I will be doing most of my shopping here for my
dress
ing needs. I drive a truck so it is important, to me, to look decent but have clothing of a quality that can handle the road. My requirements are the clothes i buy and wear should be able to make it through s rough days work and go for a steak dinner afterwards without fussing about what to wear. THANKS HISTORICAL EMPORIUM!!!!!