Product Inquiry Form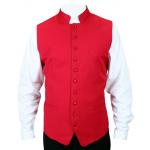 Buckingham Vest - Red/Red
Item: 006443
Customer Reviews of our Store
Although I think your prices are on the high side, I do believe you get w
hat
you pay for. The overall service is excellent! I had to return an item because it did not fit, and within a few days I received a refund and an email noting they had received the item and issued a refund. No questions asked. T
hat
's great service. Very satisfied with the other items I purchased and will definitely buy here again. Than you.
Anonymous Customer
PA, United States
2019-05-20
Great product! Took a little long to get here.
Jeffrey L
CA, United States
2019-01-17
You never let me down
William
KS, United States
2019-05-17
I enjoy wearing
top hat
s they are my preferred hat to wear, whether for dress or work. The sizing chart really helped me order the correct size. Delivery was sooner than I had expected.
Wow! The faux leather ladies
spats
are beautiful, well made, and fit nicely. They arrived in a timely manner, packaged well, and communication was spot on. Thumbs up!
I wear the clothes I buy from Historical Emporium daily. As a Horseman/
cowboy
, and Outdoorsman/Mountainman, I make many of my own clothes and gear, but when I buy clothes irs from you guys. The quality is over the top, the choices are many, the era designs are on the money. I retired from the Military after 30+ years as an Army Ranger, and USMC Reconnaissance & Surveillance, Scout/Sniper, and Marine SpecOps Unit Team Chief. After Combat on four Continents, many wounds, and becoming an Internationally recognized Operator, I retired as the only Master Sniper of the USMC/SOD/NATO. My 'Story' or Intellectual Property is worth a lot of money and I've been pursued by Random House, MGM/Paramount, and even NetFlix, to tell it, as it would be the most comprehensive narrative about Sniping and Special Operations ever written. I have avoided this fo 17 years now as the 'Real Warriors' don't do those things for money, nor do we give away trade secrets to potential terrorists, just to be rich or famous. That being said, I stay way out of the lime light and live much as my recent ancestors did in the 16-1800's here in this Country. I am keeping a code most people will never hear of and about 99.9% would understand...especially these days. I love your stuff man, and I wear it unless I'm in the heavy bush hunting, trapping, tracking, fishing, etc... Like my garrison Clothes and my leather or 'buckskins' are my field uniform. Keep up the good work! Respectfully, Neil K Morris MSgt USMC (Ret) Master Sniper USMC/DOD/NATO