Product Inquiry Form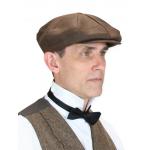 Linen Applejack Cap - Brown
Item: 006516
Customer Reviews of our Store
Shirt fit as it was described to. Quality and design are as expected. Looks great with his
dress
kilt attire!
Kilted T
ME, United States
2019-09-12
The two most recent purchases from H.E. were shelf brackets to install some porch railings, and a Vest, to wear with my kilt coat and kilt. An historical note, the Victorian Era was both the beginning and the High Water Mark of the modern day kilt and its accessories. So, the BEST place to buy cloating for kilt wear is a firm like Historical Emporium. All the products I have bought from here, have been first rate, just the few and or odd item detail a 'bit off' (such as very soft metal in the screws of the brackets]. Not any of the 'off items' detract nor nullifiy the value and use of the Item. A very fine place to shop for these sorts of items, if you are an antique house owner, 'cosplay' artist, or a person fed up with 'modern fashions' and suits that look like you are an undertaker by trade. There is nothing quite like attending a formal event in a ruby coloured velvet doublet and kilt, that in a room full of 'penguins'. Or attending church in a full
frock
ditto suit/ or ladies attire, which this tailor has the sense not to comment on!
Great Stuff. Cut me off, I keep buying things.
Lee J aka D
MI, United States
2019-12-29
I have been involved with historical re-enacting and dancing for decades, on ice and ballroom, and , for most of the time, did my own sewing of
vests
, uniforms, tails, etc. However, for a Victorian era ball, time was short, less than ten days, my clothes were 'tighter', needed a solution, so I hit the web. Historical Emporium came up, the reviews looked legit, the clothing had the right 'look', pricing was reasonable, so, using suggestions from the comments about sizing, I ordered a complete outfit, including a proper top hat. Everything arrived, via ground, in less than a week, and all of it actually fit!
Super fast shipping across the country. I purchased a cut away
coat
, vest and tie for an historical portrayal our community presents in our founders' cemetery. My costume was a big hit (as well as my superb acting, of course).