Product Inquiry Form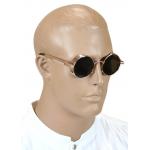 Wasteland Shades - Polished Copper
Item: 006694
Customer Reviews of our Store
Great Qty fast service I will be ordering more products. Very Satisfied.
Prior to ordering on-line, I called to confirm if I ordered a separate holster for a longer barrel (6-8") revolver, would I be able to swap it onto the belt portion of a similar-but-shorter (4-6") Gun Belt & Holster combination I also intended to order. I was glad that I called, learning certain models are not built to allow this. Fortunately the models I chose do. The pleasant and helpful reception to my call made me confident I was dealing with a company who cared for its customers. I placed my order, which arrived well within the estimated delivery dates. I'm very pleased with the quality and appearance of both
holsters
and gun-belt, excellent matches to on-line photos, being .44/.45 cal RH Draw Black Tooled Leather.
Very happy with all my purchases quick shipping and well packed.
Delivery time, shocking...fast. Item selection decent. Quality excellent. Product diversification fair. Didn't find what I was searching for, but what is available is stylish. Was looking for more work related of a "common everyday" line. More common full button plain work shirts of a "homespun concept" related to the trades v. Professional business attire/dress/fancy look. Was looking for
pants
that are closely related to periods, but lighter weight that can be worn today in hot climates when re casually shooting SASS. Was looking for products that relate to blacksmith's, farmers, mule skinners, stable hands, carpenter's, dock worker's, and the like. You have some, but the products are more closely related to other occupations. The selection is expanding, more stuff is available now than previously, so perhaps it'll continue to diversify. Prices are scary and make me look for other options. If I can find items, I will buy elsewhere, but when I can't, and you have it, I'll sometimes bite the bullet and pay your prices. What I get from you is good, and quick, but in my humble opinion, not quite worth what you charge. I can often get 3 shirts for $65, that are of same quality, and sometimes, better, I.e. Buttons that are true deer horn. Likely you won't like my review, but you insisted and persisted so, here's what you get. If you don't want it, don't ask. I'll buy again, when it's appropriate, and I'll refer people occasionally. So overall the critique is critical but favorable.
Everything was fine - it fits well - Thank YOU !
RTaylor
IL, United States
2020-02-21
I loved everything I received from Historical Emporium. It was all accurate to the era and of excellent quality! I will definitely be shopping here again.