Product Inquiry Form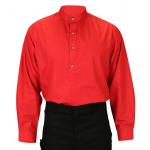 Glenrock Shirt - Red
Item: 007060
Customer Reviews of our Store
Richard Banks
NH, United States
2021-04-30
Had to refund/exchange for sizing reasons. Process was easy and new product arrived quickly. I wish I didn't have to pay for shipping back as I feel the product was grossly mis-sized.
I am new to Historical Emporium, but I wish I had found your site years ago. The customer service is excellent. Before I even ordered anything I called the phone number to see if anybody would answer. I've ordered from sites before, had a problem, and couldn't ever reach anybody for help. Not the case with Historical Emporium. Somebody answered the phone immediately and they were so kind and courteous. I have since ordered several items and EVERY SINGLE ONE OF THEM has been PERFECT. No flaws, no defects, excellent quality! Packaged well, arrived safely and quickly. Every time! I'm sure I will make many more purchases. It is so nice to be able to order with confidence knowing I will get a quality item and if I have a problem I can speak with somebody about it. The prices are fair and to tell you the truth I am willing to pay a little more for excellent quality and excellent customer service. I read a review for an item on your site where the customer fussed t
hat
they found the same item on another website for 10 dollars cheaper and to shop around before buying from Historical Emporium. I thought w
hat
bad advice! Yeah, go ahead and order t
hat
cheaper item on another site. You will probably get some lower quality knockoff item and lousy customer service when you have to return the item because it was crushed or damaged because the company didn't care and shoved it in too small a box because they wanted to save money on shipping it to you and lots of luck speaking with a human being to get the issue resolved. I will tell everyone to stick with Historical Emporium. Above average quality items, above average quality customer service, and above average selection of IN STOCK items (so many other companies sell things they don't even have in stock and you wait for months). I just love this company. Please don't ever reduce the quality of items or the quality of customer service. Thank you!!!!!
David R. Anderson, BMW Club U
East Renfrewshire, Scotland. United Kingdom
2021-09-16
Fast service. Great website. Good range. Easy to navigate. In some ways, too much choice !!! Duster
coat
very strong and tough, but that's the nature of that genre. It should become supple after a few months use. Thanks.
Leonard was outstanding! Polite, helpful, interested! Easy easy! Thanks!
Kathryn
CA, United States
2021-10-29
We are very pleased with the customer service and quality of the clothes. The clothes are beautifully made with lots of detail. We had to return a couple items because they didn't fit. We had no trouble returning the items. We made two different purchases and received each very quickly.
James Sims
FL, United States
2022-04-02
Awesome