Product Inquiry Form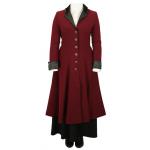 Veronica Frock Coat - Burgundy
Item: 007704
Customer Reviews of our Store
Excellent service on a size issue--Immediate and polite service and concern I get the correct size. Very quick on a resending the correct size.
My husband was THRILLED with his smoking jacket. It was the perfect birthday
gift
. He's wanted one for years but I couldn't find the perfect one until the Historical Emporium. Everything was perfect!
Outstanding customer service, product quality, and fast delivery. Easy returns. Very satisfied. Highly recommend.
I was skeptical....Ok, I was very, very skeptical. Here is my story. My daughter was engaged to be married on our land in the mountains. So I had in mind to wear something different. In the back of my mind, I knew that I had my one and only suit, which is 23 years old, for backup...meaning that I was not in any panic mode. As you might have guessed, I do not like to clothes shopping. So with about a month to go before the wedding, I started looking on-line and going to men's stores to shop for something that was vaguely in my mind. After another uneventful shopping attempt, I was looking on line for a vest when an advertisement popped up with 'the look' that I was looking for. Excitedly, I yelled out to my wife, 'Hey, I just found my wedding wardrobe.' I clicked on the advertisement and it took me to Historical Emporium. Not only did the styles catch my eye, but the prices seemed very reasonable compared to what I had been seeing in local shops. I was not very serious because I have bought many things that 'looked good' on-line only to receive them and be disappointed. However, it was the reviews that changed my mind. Comments concerning quality, fit and great customer care hooked me. I decided to take a chance and make an order. At the most, it would cost me 'shipping' to send the items back if I was not pleased. So after a few measurements and a call for advice to Historical Emporium, I ordered a vest, a pair of pants, a shirt, and an ascot that matched the color of the dress that my intended to wear. I made the order late Friday and much to my surprise received the items on Monday. Once again, my expectations were exceeded as I tried on each item. They fit good and felt good. The quality was as advertised. I immediately ordered some suspenders and spats for my boots. Since all the trousers come in 36 inch length, I knew that I would need to have them tailored, which was no problem at all. I thought that I was all set for the wedding until I was browsing the site and a coat caught my attention. But now I was within 12 days of the wedding. Again I decided to 'go for it.' And once again Historical Emporium came through as I received the coat three days later. I am on an international trip and have not seen the coat...so I will have to reserve comments on it for the future. My overall experience with Historical Emporium has been nothing less than exceptional. Shipping. I receive all three orders very quickly. Each order was shipped on the day that I made the order. Quality. Extremely pleased. Comfortable, well-fitting. Sizing. I am a tweener on sizes on everything that I seem to buy. I was told to go by my measurements and that worked work well. Customer Care. I called twice and both times the staff were very friendly and helpful. Pricing. As I previously stated, I am not much of a shopper, but I do know that I go my whole wardrobe for less than the price of a sports
coats
that I was looking at in local stores. Overall Experience. Outstanding. I could not have been more pleased.
Brenden B
FL, United States
2018-12-28
Pretty quick, easy, simple and good!