Product Inquiry Form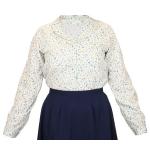 Caroline Blouse - Blue Floret
Item: 007832
Customer Reviews of our Store
Patrick
OH, United States
2020-08-06
I have been very pleased with my prior purchases at Historical Emporium, however, with this order, they absolutely blew me away with the quick responses regarding my order, as one of the items turned out to be out of stock and a replacement was recommended. My purchases were shipped lightning fast! I'll continue to be a customer for, hopefully, a very long time.
Dr Randal A
NV, United States
2020-07-22
I waited to do this review until after my second order. Historical Emporium's customer service is suburb. Any questions I had were answered within a day, in fact one within 5mins of my email being sent. Order fulfillment was fast and orders for me at least arrived a day or two early; even with the COVID situation. My first order was Gold Sutter Satin Puff Tie, the Gold Jacquard Premium Mens Button Spats and Sable Brushed Cotton Trousers I had order to go with an old 20's men's
vest
I steampunk'd and a Brown Gold Brocade Jacket already order. The quality of my ordered products were exceptional definitely long term wear, truly reenactment clothing, much better than the costume quality jacket I ordered where its picture didn't match what arrived, and HE's items were identical. This prompted me to get the Khaki French Satin Suspenders, which I'm equally pleased with, and I will as funds are replenished place a third order for a High Collar Excelsior Dress Shirt, the shirt I currently have well doesn't measure up for my Airship Pirate Doctor Attire I am creating. So yes On a 5 star rating I give them a 10 ;)
Douglas
SC, United States
2020-10-11
Shipping was very fast, customer service on a return I made due to a sizing issue was easy and prompt. The merchandise was high-quality. Over
coats
are understandably large, but the sizing chart seemed to be a little "overly-large", the first coat I ordered was entirely too big. I was on the borderline of the M-L to XL-2X size though, so this is understandable. I still think the measurement chart is a bit on the large side. Overall great experience and great product. Thank you-
Grandma
MS, United States
2022-01-05
I got this for a grandson who is an historical person and he loved them and I did too
I was having issues placing the order and receiving confirmation afterwards. The individual I spoke to was helpful, polite, and wonderful. The products are being used to supplement incomplete historical
costume
displays and they are of excellent quality. Lovely!