Product Inquiry Form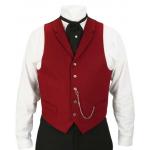 Warwick Wool Vest - Burgundy
Item: 008202
Customer Reviews of our Store
Thai purchase was for my wife Vivian. She saw the
shoes
that we purchased being worn at a live theater production here in Vancouver, British Columbia, Canada. At the end of the show, we were allowed to meet the cast. During this interaction, Vivian asked the actress involved where she purchased such unique footwear. The actress gave us your name and web site information. Not only did we fine the
shoes
but we were amazed at the overall price, including delivery. We did have some sizing concerns. We carefully read the web site and followed the site's recommendations. Vivian ended up contacting Customer Service and after a very comprehensive conversation, she selected the size she wanted to order using the guidence of the Customer Service Representative. The footwear arrived quickly with no complications of trans-border shopping and delivery. The
shoes
are of excellent quality (though Vivian had seen them on our thespian friend) and the size was perfect! Thank you so much. She loves them!
The Customer Service is excellent! The quality of the garments is very good. The selection and style are very diverse and I will shop with them again!
Tabitha
IN, United States
2021-10-07
Items are true to size. I ordered a 46 in pant, and my son typically wears a 44. They are a little roomy, so I should have bought the 44. The
pants
are very long, but I sew, and it was an easy hem. He is 6 foot tall, so I don't know who they are accommodating with the length, but the legs are tapered, so you could easily cuff them as well. The quality of the
pants
were outstanding. The fabric feels a lot like a pair of Carhartt
pants
. Overall, these are surprisingly well made
pants
and will last a very long time. Well worth the money. Waist is true to size and the length is for a 6 foot 2 inch man, but is easily hemmed or cuffed.
Great quality merchandise. This is not
costume
(cheaply made) apparel. This is exactly the quality that your great-grandparents would expect.
This is exactly w
hat
I was looking for. Excellent design, fit and finish.
I have made several orders. Fromo Historical Emporium over the years. The products have been well made and very worth buying. I ordered a Brown canvas
duster
this time. It is replacing a
duster
I got a couple of years ago. That
duster
was always tight across the shoulders and arms. But was fine everywhere else. The new
duster
vis a size larger and fits better, somehow the world has changed and mens size 42 is no longer a medium, but a large.