Product Inquiry Form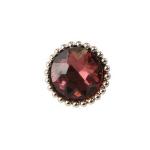 Silver Beaded Tie Tack - Amethyst
Item: 008211
Customer Reviews of our Store
I read the reviews before purchasing. The reviews stated that the garments ran a size larger. I read where some customers were unhappy because they did indeed run larger to size. So, I ordered the next size smaller than I normally wear. I also looked at the sizing chart. Yet, when I rec'd the 2 garments, even a smaller size, they were still too BIG. Not even close. Very loose. I have sent them back and requested the next size smaller. Which is the only size left to me actually. What was disappointing was though I was substituting the sizes, you do not have free return shipping. I was dismayed to have to pay more money. $18.35. Most any company today offers free return shipping. To have it altered was not a choice, as the garments would have not lined up very well and the cost would have been around $55. I feel I did plenty research before choosing the size that should have fitted me. When the sizing is incorrect due to clothier, they/you should pay for shipping. At least a credit or shipping refund. The clothing was as described and well-made and I was not disappointed in their appearance.
Thai purchase was for my wife Vivian. She saw the
shoes
that we purchased being worn at a live theater production here in Vancouver, British Columbia, Canada. At the end of the show, we were allowed to meet the cast. During this interaction, Vivian asked the actress involved where she purchased such unique footwear. The actress gave us your name and web site information. Not only did we fine the shoes but we were amazed at the overall price, including delivery. We did have some sizing concerns. We carefully read the web site and followed the site's recommendations. Vivian ended up contacting Customer Service and after a very comprehensive conversation, she selected the size she wanted to order using the guidence of the Customer Service Representative. The footwear arrived quickly with no complications of trans-border shopping and delivery. The shoes are of excellent quality (though Vivian had seen them on our thespian friend) and the size was perfect! Thank you so much. She loves them!
I had tried to shop on my phone, but it would not go through. I called customer service and learned that I couldn't use safari, and they recommended using a different browser.
Fast shipping with no problems. A pleasure to do business with.
Excellent service, fast shipping, Excellent communication
Manfred B
UpperAustria, Austria
2021-01-14
Good store