Product Inquiry Form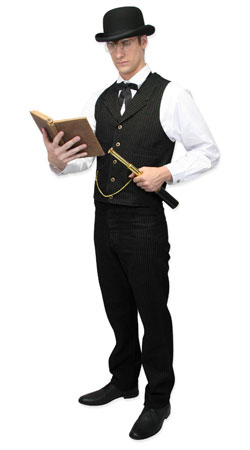 Jasper Adams, Land Agent
Customer Reviews of our Store
The quality was good and so was the service. The product was delivered ahead of schedule. I was very pleased.
Jumpmaster
SC, United States
2022-05-19
Very impressed with the Western
holster
& belt that I bought. Curstomer Service was timely and very responsive. Received it right on time.
Wayne ( as in John )
AL, United States
2022-02-04
Great Service! It is good to know t
hat
there IS such a Great Company t
hat
values the customer and provides excellent customer service. On a scale of 1 - 10 Historical Emporium should receive no less than 15. Top quality products with exceptional customer service - bar none. Along with excellent and up to date timely emails provided to keep one up to date every step of the way. All Pros and zero cons.
My only disappointment at all was the small number of period
vests
for men in XXL/TG I already have four
vests
from Historical Emporium which I purchased many years ago; and I still get compliments on them when I wear them. Several of your dress
vests
are items I would certainly buy, but are only available for those with short upper bodies, and none of course are in the size that would fit me. The Item I purchased this time around is impeccable. It was the silver men's pocket watch with the "Viewing window" to see the mechanism working. I love it. Thank You Longstreet
It was nice to get an answer to my question about available lengths of a pair of suspenders I bought. Your stock was too short but I realized that because it had both clips and button loops I could put the button loops on the
pants
then clip to them giving me both longer suspenders and a fast way to get them on and off. I do wish you had wider suspenders. These were not for fashion. They were for logging and similar work.
I ordered a Victorian
top hat
to surprise my husband for our anniversary. I had to be sneaky and measure his head without him suspecting anything. I used the sizing guidelines and bought him a large. Unfortunately, when it arrived we discovered the large was too large. We were going to exchange it for another in medium, but found that the shipping return was more than half the price of the hat itself. Upon explaining my situation to customer service, they immediately sent me a medium and in the box a return label. I simply put the large hat into the box that the medium came in and drove it straight to the UPS store. Thank you so much for your help and trusting me to return the too large hat. That's tops in my book! You guys are the greatest.