Product Inquiry Form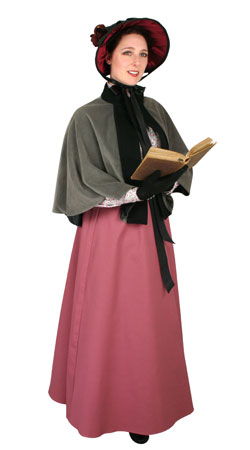 Pauline Cummings, Homemaker
Customer Reviews of our Store
Anonymous Customer
ME, United States
2020-01-08
Excellent
Exceptional goods and care
FL, United States
2020-11-10
I enjoyed prompt, safe delivery of unique items. Thank you!
Ordering was easy. Customer service was informed. Returns for size issues was fast.
My problem was handled efficiently, promptly and professionally. Extremely satisfied.
David M
CO, United States
2020-10-16
Shipment was very fast--arrived only 4 days after I ordered. The Inverness tweed cape is made of very heavy material, almost like a tweed sports jacket. A good piece for cold weather use. As noted in the description, the size runs large. I am almost 6 feet tall, and over 200 pounds, with arms t
hat
usually need long sleeves, but the "M/L" size was almost too big. Any larger size would be huge on my frame. A great cloak/jacket! and I will put it to good use when wearing a suit in wet winter weather.
I am new to Historical Emporium, but I wish I had found your site years ago. The customer service is excellent. Before I even ordered anything I called the phone number to see if anybody would answer. I've ordered from sites before, had a problem, and couldn't ever reach anybody for help. Not the case with Historical Emporium. Somebody answered the phone immediately and they were so kind and courteous. I have since ordered several items and EVERY SINGLE ONE OF THEM has been PERFECT. No flaws, no defects, excellent quality! Packaged well, arrived safely and quickly. Every time! I'm sure I will make many more purchases. It is so nice to be able to order with confidence knowing I will get a quality item and if I have a problem I can speak with somebody about it. The prices are fair and to tell you the truth I am willing to pay a little more for excellent quality and excellent customer service. I read a review for an item on your site where the customer fussed t
hat
they found the same item on another website for 10 dollars cheaper and to shop around before buying from Historical Emporium. I thought w
hat
bad advice! Yeah, go ahead and order t
hat
cheaper item on another site. You will probably get some lower quality knockoff item and lousy customer service when you have to return the item because it was crushed or damaged because the company didn't care and shoved it in too small a box because they wanted to save money on shipping it to you and lots of luck speaking with a human being to get the issue resolved. I will tell everyone to stick with Historical Emporium. Above average quality items, above average quality customer service, and above average selection of IN STOCK items (so many other companies sell things they don't even have in stock and you wait for months). I just love this company. Please don't ever reduce the quality of items or the quality of customer service. Thank you!!!!!