Western Leather Holsters & Gun Belts for Single Action Revolvers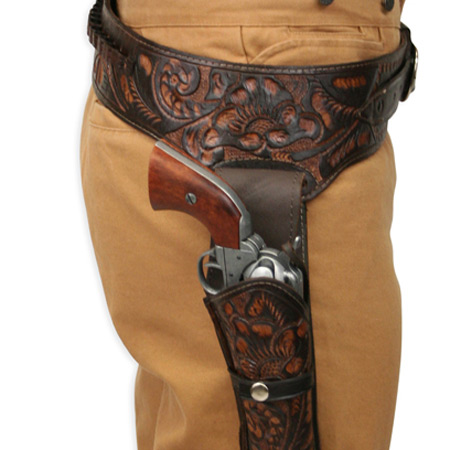 We carry a full line of western style holsters for old west performers and reenactors, Single Action Shooting and Mounted Shooting competitors, and anyone who just likes to go out and play cowboy on the weekends!
Replica six-guns are available from a number of manufacturers. Some are direct replicas of the original styles from the old west, but many are chambered in different calibers and have varying barrel lengths to accommodate modern tastes.
We've put together this holster guide to help you make sense of the options available, and to help you make the right selection for your firearm.
If you have any questions about this information, or we can help you in any way, please contact us and we'll be glad to be of service.
Holsters come in a wide variety of sizes and styles, so it's important to get the measurements correct for a good fit. For single action replica revolvers, the pistol's caliber and barrel length are key to determining which holster to purchase. Additionally, and just as important, you need to measure yourself correctly to ensure you get a gunbelt that will work for you.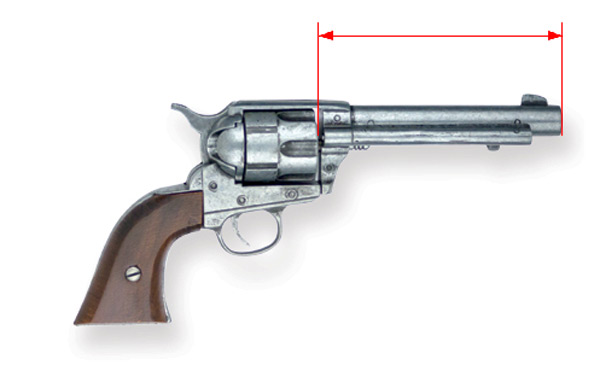 How to Measure your Revolver's Barrel Length
Measure from the face of the cylinder all the way to the end of the barrel, as indicated here.
Our holsters are offered in two lengths: Standard length holsters, which fit pistols with barrels from 4 - 6 inches in length, and long holsters, which fit pistols from 6 - 8 inches in length.
Click one of the links below to browse holsters designed for specific size pistols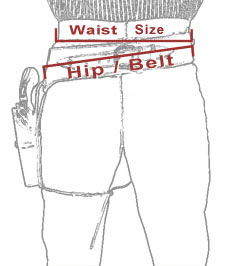 How to Measure Your Hips for a Gun Belt
Measure your hips at an angle, as shown in the diagram here.
If your measurement falls between sizes, round up to the nearest even number.
Our gun belts are sized in inches, and each belt has a range of + / - 2 inches from the labeled size. It is VERY important that you measure yourself for your gun belt.
DO NOT just select your jeans size, or you will very likely end up with a belt that is too small.
Shop Old West Holsters by Chamber and Barrel Size
Once you know the size and style holster you need, you can shop our store with confidence.
Find Holsters for a Specific Pistol
In general, our holsters work for all replica old west revolvers in the size ranges listed above. However, some modern models have oversized front sights, which means they do not fit into the bottom of the holsters.
To ensure a good fit, we recommend you look up your specific pistol model, caliber and barrel length using the links below.
Taurus Brand - Sorry, our holsters are not compatible with Taurus Brand Revolvers.
Questions? Just Ask!
If you do not find your pistol listed, or if you have ANY questions about sizing or holster compatibility, please Contact Us and we will be glad to help!