Add more color to your wardrobe with our Spruce Green and Royal Blue Tailcoats! Tailored from plush velvet, these 19th century inspired coats feature matching velvet collar and cuffs. Black braid trim and two buttons at the top of the rear tails offer additional embellishment.

Rule any room in our Sovereign Regency Tailcoat, a formal jacket inspired by the gracious times and traditions of the early 1800s.
---

Blue up your blood wearing our Sovereign Regency Tailcoat, absolute on-point style for the early 1800s social scene. Mr. Darcy would be envious.
---
Our Sovereign Regency Tailcoat is absolutely what to wear when transacting business around town in the early 1800s – especially with a commanding countenance. Inspired by the fastidious fashions of the era's 'dandies' coupled with a military motif, this simple yet elegant coat is a cut above the rest.
---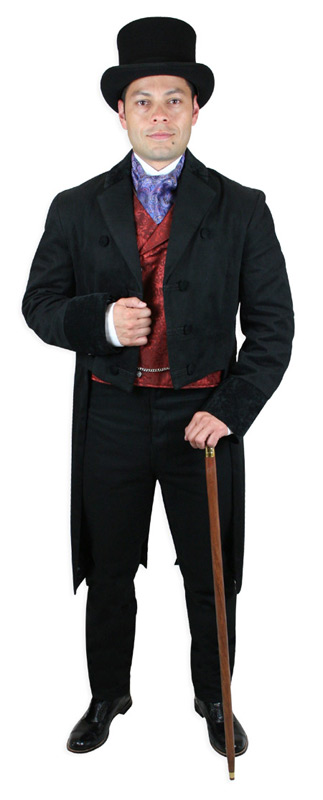 Whatever your title in life, wearing our Sovereign Regency Tailcoat is a decree of the most dashing order. Authoritatively appointed for gentleman's important business meetings and formal enough to pass at any evening engagements.
---