All our product reviews are from actual customers, just like you!
These are a few of our favorites for the month of June.
---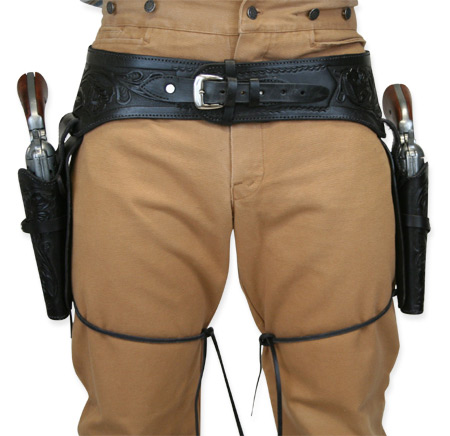 (.44/.45 cal) Western Gun Belt and Holster – Double – Black Tooled Leather – Gunslinger Gunbelt
I received the gun belt in the time Historical Emporium said it would be delivered and it was everything I expected. It looks great and fits great. It looks like the one that the Lone Ranger wore back in the 60's. . . I have 2 reproduction colt .45s for Cowboy Action Shooting and they fit very well and the bullet loops are perfect. the only thing that I changed was the leg tie down strap on one side was not as long as I would like. I took the tie down off of my other holster and now it's fine.
[Duke, Oak Grove, MO]
---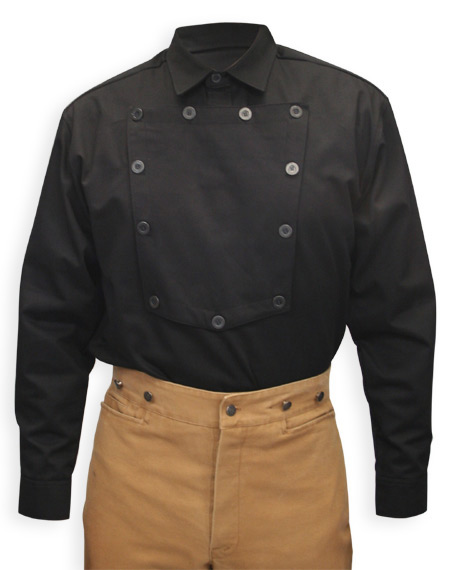 Cavalry Bib Shirt – Black –  Best "Hondo" Shirt Ever !!
Dear Friends, I could not be happier with my purchases from you !! This is the third shirt I've gotten, and all three were of the "American quality" I would expect from my fellow country men and women. I am now a customer for life and look forward to filling my closet with your "top of the line" clothing. Thanks a lot, and take good care !!
[Grim NorseFury, Duluth, MN]
---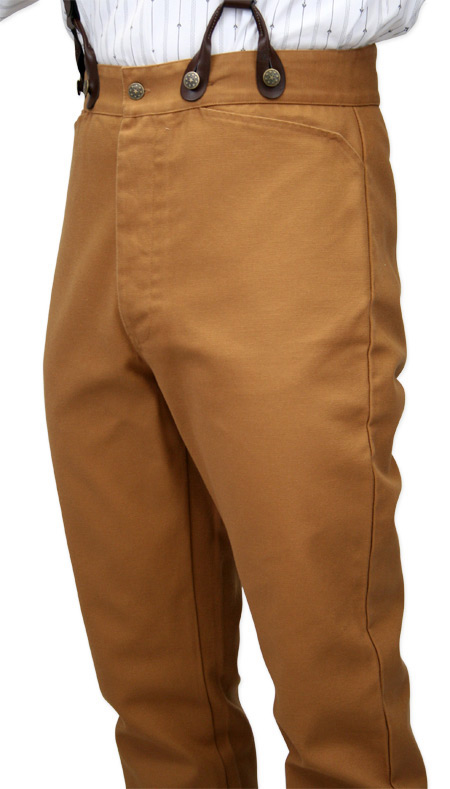 Classic Canvas Trousers – Brown – Well made
The only CON about my purchase is that the trousers may be made too well! They are excellent quality and craftsmanship. I'll have to rough them up for more authenticity. lol.
[Todd, Etna, WY]
---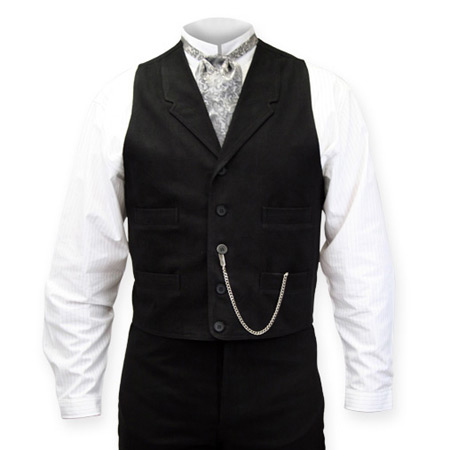 Livingston Black Brushed Cotton Vest
I have been wanting a vest with notched lapels for a very long time, but short of having one made, could never find anything. That is, until I discovered Gentleman's Emporium. I am a singer/songwriter and have looked for specialty clothes for stage. The beauty of their clothing is that it can be worn anywhere and be stylish. I love my vest and will look for more in the future
[J.R. Matt, Rochester, NY]
---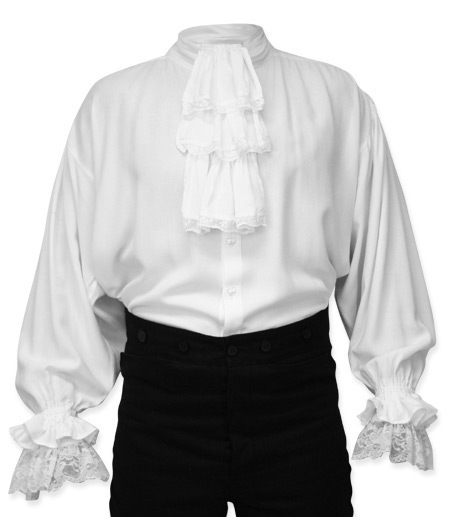 Marcus Regency Shirt with Removable Jabot – White – Awesome Shirt!
This shirt is SO comfortable! I have no idea why these ever went out of style. The fabric is so soft, and the design is very versatile. You can button up the collar and have the jabot and sleeve lace for nice refined look, or you can unbutton the collar and tuck the lace into the sleeves for a more everyday look! Am awesome product
[Alex, Chattanooga, TN]
---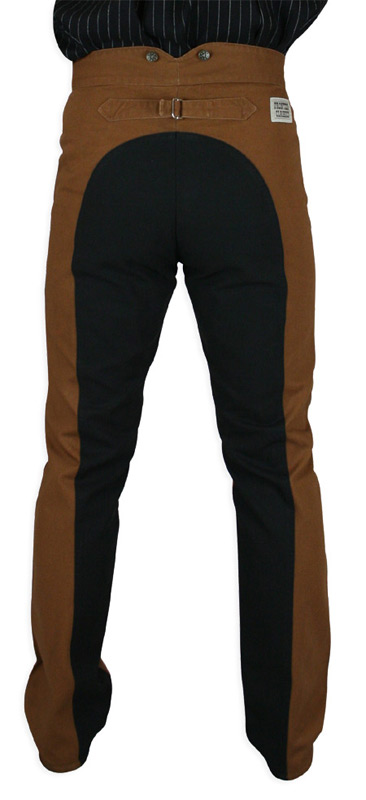 Olson Saddle Pants – Tan/Black – Fantastic!
I bought these for riding my motorcycle, once I had them tailored for my length. I had lots of left over material, so my tailor made me leg pockets for my wallet and glasses, now I have the ultimate riding pants, outstanding in the comfort level, in the overall fit bang on, with braces the comfort level is upped and above what you want. Did a 9 hour ride on the weekend from inland to the lakes, a lot of people had to stop and put their chaps on because their legs got cold, these pants held off the cold and then even were comfortable when we were into the heat. My pants for my month long bike ride…..thanks so much…..
[Andy, Ontario, CA]
---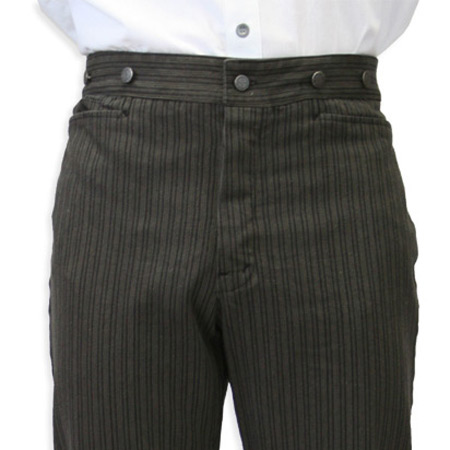 Railhead Pants – Charcoal – Comfortable, well made
This is my second pair of high waisters, but will not be my last. I really like the feel of them and I wonder that it took so long for me to switch over to suspenders. I've had buttons added to most of my trousers. People who are tired of their hip huggers ask where I got them!
[Zopalote, Santa Fe, NM]
---
Click here to see all of our Historical Emporium Customer Reviews!
---
Want to review a product? Be sure to watch for an email from us about a week after your order arrives.