All our product reviews are from actual customers, just like you!
These are a few of our favorites for the month of August.
---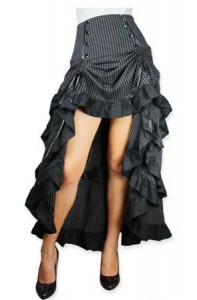 Lorena Skirt – Black: The only place for decent historical plus sized wear!
Don't buy the size you may wear off the rack in the store. I measured my waist and hips and checked the size chart. I ordered that size, and it fits perfectly. The quality is excellent–it's made as a good piece of clothing, not a cheap costume. They are the only site I've found that has good quality historical costumes that are plus sized.
[Piggydiva, Louisville, KY.]
---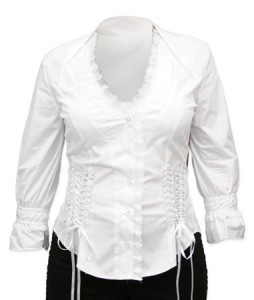 LOVE LOVE LOVE this blouse! I have it in 3 colors to match my homemade bustle skirts!! Black red and now white! Yay! I LOVE these tops even though the "corset" parts are tied together with ribbon. I hate that stuff. I replace it with crafty cord. The ribbons just don't do it for me. The cord is a lot more sturdy to me. I've also purchased work blouses and I love them as well. They fit well and are sturdy! I can't wait to make some mercantile skirts and I will be the storekeeper's wife by day and the saloon girl slinging whiskey and beer by night! So glad to be retiring so I can spend my days cooking, sewing and running the general store! Looking forward to building an old West movie set where I'll run the general store, serve old fashioned home cooked meals and then the saloon! SO EXCITED!! I will be back to buy MORE!!!
[Ticklz, St. Robert, MO.]
---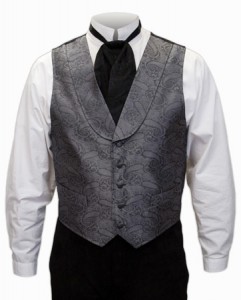 Putnam Vest – Gray: What a Fine Piece
We were delighted to see the high quality of this item. Authentic look and feel launched this site to the next level for me.
[Ric, Venice, FL.]
---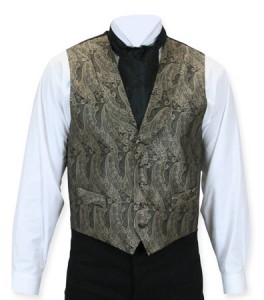 Ambassador Vest – Taupe: Mens Vest
I have now bought over 8 vests from Historical Emporium and have nothing but glowing comments on the quality of the vests and the wonderful service I have received. Thank you H.E. for putting out such awesome products. You are my #1 go to spot for all my vest purchases..
[Kent, Shoreview, MN.]
---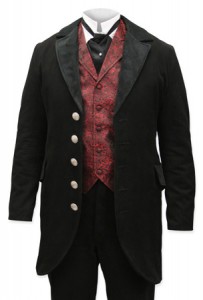 Velvet Trimmed Edwardian Morning Coat – Black: Perfect Coat
This coat is truly beautiful The blood lust ball coming up and i shall be wearing this coat to that event along with my spat boots also bought from here! It fits pretty good although mine is a little large but still sits on me quiet well I first tried it out for Christmas in July i got many remarks on it from members of the historical society saying how accurate it was. the buttons are beautifully crafted in the style of a penny which gives it a more interesting style to it & more unique appearance . a truly impressive item.
[Don Jason, Sydney, AUS]
---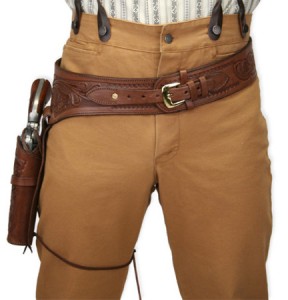 Western Gun Belt and Holster – Chocolate Brown Tooled: Hardcore Good
Absolutely freaking love this holster, almost too good to use. I want to hang it on the wall, but I do use it. Fits a Colt 1911 perfectly, no not using it for a revolver, but with my two 1911's. Total bad ass, works great on the ranch. Last week I used it when I scared off a bobcat that was after my dog, the draw was natural and lightning fast, exactly what I was looking for. It was like a natural extension of my body when I reached for it. The leather is good strong thick leather and fits like your favorite pair of boots. I am really in love with this holster. The fact that there are two mags worth of extra bullets riding on the back is just icing on the cake. You could probably drag this baby through the dirt for miles before anything breaks off. Also, it is really pretty too and the color goes great with a black pistol and walnut grips. I am just saying, if you have to accessorize as a working man, this is the way to go.
[THarrison, FL.]
---
Distinguished Gent Theatrical Monocle – Gold Tone: Mono y Mono Spandifilous
Grand. Stays installed just fine due to the little added helper frame.
[Colonel Steam, Las Vegas, NV.]
---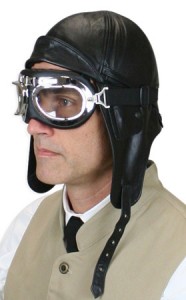 Leather Aviator Helmet – Black: Cool!
Very good quality. Better than expected. Now I need to buy a biplane to go with it. 😉
[Mister Ed, Bunn, NC.]
---
Click here to see all of our Historical Emporium Customer Reviews!
---
Want to review a product? Be sure to watch for our email about a week after your order arrives.