For those of you living in the Bay Area, head over to the City Lights Theater on 2nd Street in San Jose and see The Elephant Man!
What's so spectacular about this theatrical production, besides the captivating acting, wonderful cast and HEI hometown location? The wardrobe, of course! Several cast members are wearing our items. Can you spot which ones?
[Click the photos to see which items!]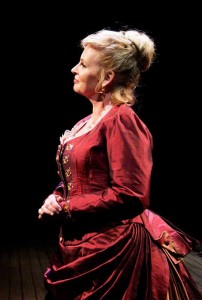 One thing we can't take credit for is the handcrafted bustle that actress Kristin Brownstone (Mrs. Kendal) is wearing. The bustle was handmade by costumer Pat Tyler specifically for this production. Pat Tyler's husband, Ben Marks, wrote an article for Collectors Weekly about this handmade costume piece, also known as the lobster bustle, which you can read here!
Want to see more photos? Then head over to the City Lights Theater Company's Facebook Photo album for more!
The Elephant Man. Now playing through April 17th! Click here for tickets and information.