All our product reviews are from actual customers, just like you!
These are a few of our favorites for the month of March.
---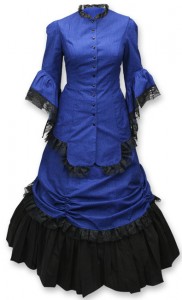 Lucille Walking Suit, Royal: Was a hit!
I was invited to a party with an 'Old West" Theme. The site of the party was in a historic home with its own saloon.
My dress was era perfect and a hit with all the guests. I loved the fit and quality of the dress. Found it to be very comfortable and flattering.
Thanks for helping to me to 'fit' in and stand out!
[Nanette, Burbank, CA]
---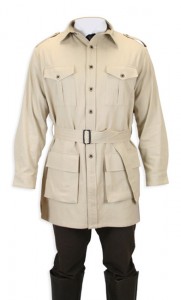 Deluxe Safari Bush Jacket – Khaki
The jacket seems to be just what I wanted, as the foundation of an outfit for an explorer/steampunk themed wedding. It's stylish and practical, lots of pockets and should be easy to wash.
Also not too hot: a problem with warm weather is not having enough pockets, and this should help there.
The colour was fine for me, but is a lot lighter than most people would understand by "Khaki" – so maybe some will be less delighted than I was.
[Justin, Godalming, UK]
---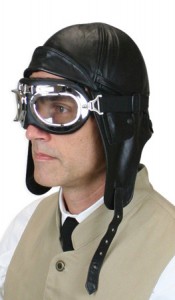 Leather Aviator Helmet – Black: Excellent
The Aviator Helmet was great. It fits well and appears to be well manufactured. It got a lot of looks and people wanted to try it on. I will probably be purchasing a second one now that I have seen the quality that it is.
People say you get what you pay for, I think I got more than my money's worth on this purchase. This is not a cheep helmet like you would purchase in a costume shop.
[Flying Fez – Ace, Roca, NE]
---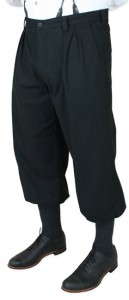 Baxter Knickers – Black: Authentic fit and feel
I have ordered many items from the Historical Emporium and have never been disappointed. The items are always delivered in a timely manner.
I enjoy the fit and authenticity of the Baxter Knickers.They seem a bit big on me, but I hope that is a reflection of me finally losing some much needed weight. A baggy fit actually is the authentic fit.
[Egon, Tucson, AR]
---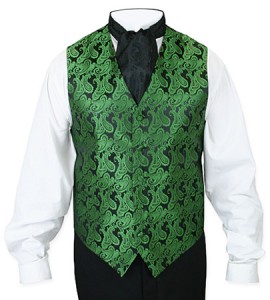 Fontaine Vest – Green: Eye-catching!
The green Fontaine vest is superb! I perform magic and am very busy with St. Patrick's Day events. So far, at every event I've performed at I have received many, many compliments on my vest.
The vest fits well, is very comfortable to perform in, and makes me stand out in a crowd, which is necessary when performing at events where I need to mingle with the crowd to perform.
The price is a bargain!
[Tim Foolery-Magician, CO]
---
Click here to see all of our Historical Emporium Customer Reviews!
---
Want to review a product? Be sure to watch for our email about a week after your order arrives.