All our product reviews are from actual customers, just like you!
These are a few of our favorites for the month of May.
---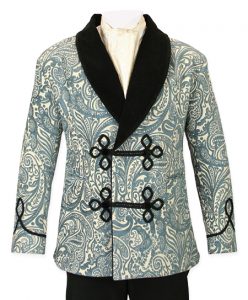 Vintage Smoking Jacket – Blue Tapestry: Stunning!
Another piece of high quality attire from Historical Emporium.
This is the second jacket that I have purchased. Once again, impressed beyond words! If you think the picture does justice… wait till you lay eyes on it and put it on in person. The coat is very well made and hints at a piece that came from a nobleman's wardrobe.
You will NOT be disappointed!
[Tyler K, Alberta, CAN]
---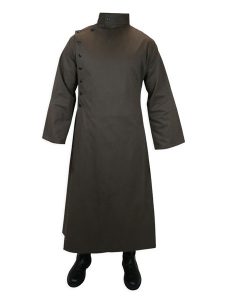 Mad Scientist Howie Lab Coat – Brown: The Mad Doctor is IN
It is always nice to find "exotic" costumes that fit the typically larger American. Not only that, but it is not a cheap looking coat.
It wears well, and seems to be professionally built. Comfortably thin, but not THAT thin. This is not a cheaply made costume.
The Mad Doctor is IN!
[Mac Buddha]
---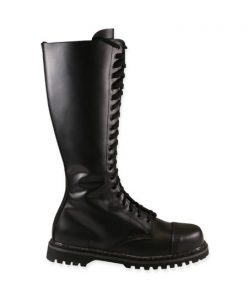 Skirmisher Boots – Black Leather:  Great pair of boots
Really good quality boots. A bit hard to put them on but worth it.
I now know how girls feel when they are putting on boots.
[Andrew, Airdrie, CAN]
---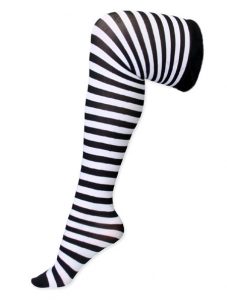 Thigh High Striped Nylons – Black and White: Impressions
Imagine a long wolf whistle
[Luke, Boone, IA]
---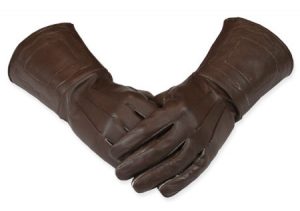 Gauntlets – Brown Leather:  Quality at a great price
On a roll with another 5 star review….. The customer service and quality are the same, if not better, than any place I've ordered from. This is my go to shop to anything Western or Victorian.
These gauntlets/gloves are perfect! The quality of the gauntlets are great, they're very soft yet they command power when worn!
I'll be able to use them for a Western Costume but will also use them with my Jedi (Star Wars) costume because the color works so well! 2 uses for the price of one pair of gauntlets!
[Hal Jordan, St. Paul, MN]
---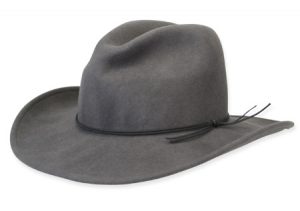 Slouch Hat – Grey:  Great headwear
This is just the ticket I have been looking for for those hot summer days, keep my poor melon covered and the sun off me.
Very comfortable and fits like a glove. The colour is really much better then just black or brown…lol….everyone who has seen me wear it tells me it is a perfect hat for me.
Thanks a lot.
[Andy, ON]
---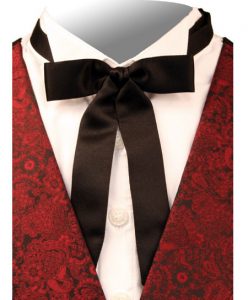 Deluxe Western Bow Tie – Black:
Very easy to put on even without help from spouse. Looks great and lots of positive comments. great Product!!!!
[Bobby Heffinger, Madison, NC]
---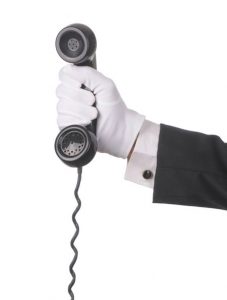 Service Review: 5 Stars
I bought the Lucille Walking Suit. I LOVE it. It fits perfectly and it arrived so fast. I also bought the victorian ankle boots in black. They also fit just right.
I made a huge mistake by ordering the boots from a competitor first. Don't ask me why. I could have saved a huge headache if I had just bought the dress and boots at the same time from Historical Emporium. The other company's website was so annoying. Then after I ordered and paid I found out it would be 4-6 weeks to get the boots…then I found out they were out of stock and it would take longer. Uggg! They finally agreed to cancel my order after I called my credit card company.
Do yourself a favor. Stick with Historical Emporium. Their products, customer service, and shipping speed are AWESOME.
[Lori M, AR]
---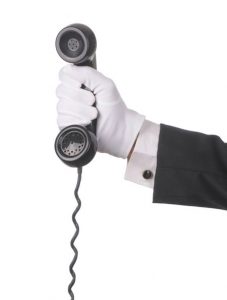 Service Review: 5 Stars
I do most of my own sewing for historical clothing, but when I'm short of time, Historical Emporium is my go-to shop.
The construction and quality of their clothes rivals my own efforts, built to last with good materials. Not the cheap stuff for one-time=wear Halloween-y costumes, this is quality clothing that you can wear for modern dress as well. The price is reasonable, too, the shipping super-fast, and the customer service is without peer.
This is one of the best online shops you will shop at. I will recommend Historical Emporium to other re-enactors. Many Thanks
[Sherry L, MN]
---
Click here to see all of our Historical Emporium Customer Reviews!
---
Want to review a product? Be sure to watch for our email about a week after your order arrives.