Congratulations to our winner, Dionysius Fernandes, pictured here wearing the Black Classic Canvas Trousers from the Historical Emporium.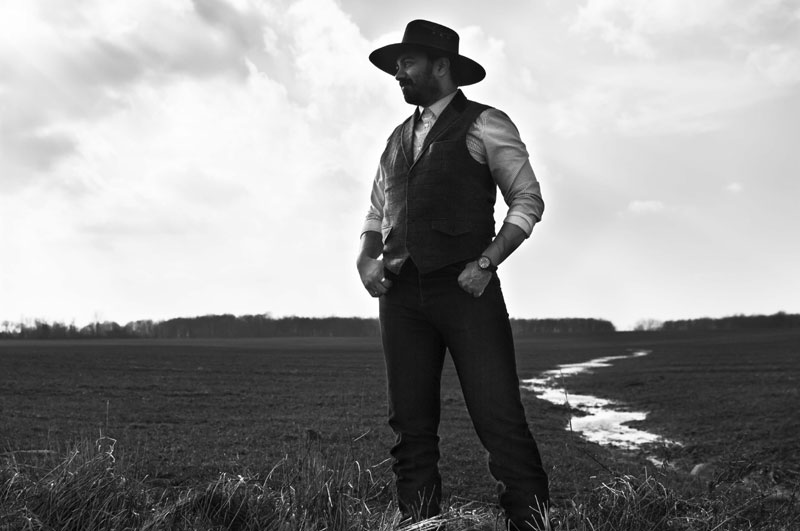 My name is Dionysius, growing up in Wyoming, I embraced the cowboy culture and lifestyle. The hat I'm wearing belonged to my dad, who himself had it for a decade until he passed it down to me. For the longest time I had been looking for authentic cowboy attire, and it was only by chance I stumbled onto your site. I purchased the Classic Canvas Trousers, and I've never been happier, and I also want to take this opportunity to say that your customer service is the best I've encountered. There was a mistake on my first order and you guys remedied it right away, and now I'm a proud return customer, and have recommended this company to all my friends. I am getting married next month and I have made all my groomsmen buy these pants and suspenders.

The photo here was taken by my fiance, Andrea, who is a photo graduate from SCAD. The photo was taken in western upstate New York, there was no event, we just wanted to take a few pics for her portfolio, just me in my element. These clothes have now become my everyday clothes and I couldn't be happier. Thank you again for the great service and the great products!!!
-Dionysius
Editor's Picks
Special thanks to everyone who sent us pictures in October. Here are a few of our favorites:
To see the entire Customer Photo Gallery, please click here.
We will have another drawing soon, so send your photo to us for a chance to win a $200 Historical Emporium gift certificate. If you sent us a picture in a previous month and did not win, you will be automatically entered in this next month's drawing. To increase your chances of winning, please send us a new picture for next month's contest.
Hope you enjoy the gallery and we look forward to seeing all the new photos.