Congratulations to our winners, Valkyrie and Evan Savage, pictured here wearing the Tan Wooster Frock Coat, Black Cherry Jacquard Vest, Sinclair Club Collar Shirt, Black Silk Puff Tie, Red Lucille Walking Suit (color discontinued), Black and Red Victorian Touring Hat (currently unavailable), and the Black Battenberg Lace Fan all from the Historical Emporium.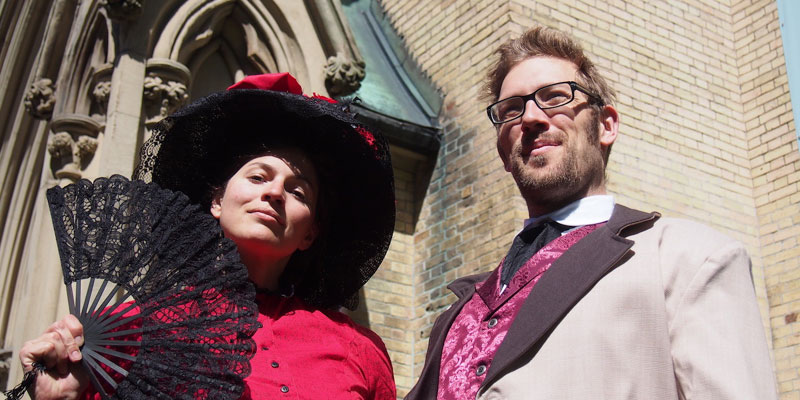 We're in the midst of a project that falls somewhere between "escape room" and "historical tour": it's an adventure that physically takes players across our city's downtown to solve puzzles related to heritage sites there. The game is set in 1867 (the year of Canada's Confederation), and at each site they visit players will meet an actor wearing period clothing who will give them clues to the mystery. (You can see a little bit more at https://puzzlingmadness.ca )

We got the costumes to wear for the performance, but back in June we were taking some shots of the stuff for promotional purposes. Very excited about the costumes. 😀

Valkyrie
Editor's Picks
Special thanks to everyone who sent us pictures in June. Here are a few of our favorites:
To see the entire Customer Photo Gallery, please click here.
We will have another drawing at the end of July, so send your photo to us for a chance to win a $200 Historical Emporium gift certificate. If you sent us a picture in a previous month and did not win, you will be automatically entered in this next month's drawing. To increase your chances of winning, please send us a new picture for July.
Hope you enjoy the gallery and we look forward to seeing all the new photos.
---
Check out our Pinterest board to see all of our past Editor's Picks!